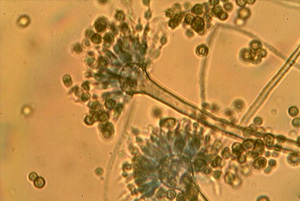 In recent years, the air quality of the indoor environment is of increasing concern to everyone. Mold and bacteria are recognized health hazards, having been associated with health problems such as allergies, infection and mycotoxin poisoning. We are exposed to many kinds of molds both inside and outside the home.
The exposure is greater in damp or a wet conditions, especially when timely drying out does not have a chance to occur. Of the thousands of moulds that exist, some are known allergens (causing skin, eye and respiratory problems) and a few moulds produce harmful mycotoxins that can cause serious problems. But all moulds, in the right conditions and high enough concentrations, are capable of adversely affecting human health.
Potential health problems can occur when people inhale large enough quantities of airborne mould spores. For some people, however, a relatively small number of mould spores can cause health problems. Infants, children, immune-compromised patients, pregnant women, individuals with existing respiratory conditions and the elderly are at higher risks for adverse health effects from mould. While not all moulds and bacteria are harmful, growth of any microorganisms in occupied space should not be acceptable. The types of moulds in the indoor environment that cause health and comfort problems are usually very different than outdoor. This is one of the reasons why species identification and counts may be useful in a mould investigation.
Stachybotrys chartarum (Black mold)
Species identification allows
to determine the potential health risks.
Example: certain species of Aspergillus, Penicillium and Fusarium are potential producers of toxins in indoors.
the type of mold present in the environment to verify an allergy or reaction. Individuals can be allergic to one or more types of mold and to determine which type(s) cause the reaction.
to trace the probable underlying cause/source for moldiness. Example: Stachybotrys chartarum and Aspergillus versicolor are most common in water-damaged buildings.
to confirm whether certain discolaration or staining on a surface is mold or not, and if mold which one?
to avoid confusion with similar molds that may not present a problem. Also, building occupants may need assurance that they were not exposed to molds that may cause health problems.
to determine the presence/absence of pathogenic airborne spores and their composition and concentrations in situations where occupants complain of ill health but with no obvious visible mold growth. This information could be used in assessing the possibility of hidden mold growth and human exposure.
to determine if outbreaks of invasive mycoses were due to the construction or demolition activities
the comparisons of the agents/mold present in different location or at different times.
to monitor environmental spore contamination from outside sources
to identify cleaning procedures that may release high concentrations of airborne spores
to evaluate the efficacy of filters in Air Handling Units.
to ensure that the correct remediation strategies are used.
Need Professional Assistance?
Please feel free to contact us @ Tel: +65 6245 0109 or email info@iaqsg.com if you are interested in having your indoor air tested or audited to monitor the Indoor Air Quality in your environment.