About IAQ Consultants Singapore
IAQ Consultants (IAQ) is a Singapore based environmental consultancy firm that has been successfully operating throughout the SE Asia region since 2004.
At IAQ, we take a personalised, professional and discrete multidisciplinary approach to addressing our client's various indoor air quality needs as well as any other environmental hygiene issues arising within the buildings under their control.
Such issues and problems may manifest themselves from the beginning of the lifecycle of a building, starting from during the construction phase, the fit-out phase, during the period of occupation, following emergency situations or at the end of a building's life phase. No matter what the environmental issue or, when they arise during the life cycle of the building, IAQ is here to help.
International Knowledge. Local Expertise & Know-How
Having created and developed our expertise and knowledge locally, IAQ are perfectly positioned to provide our clients with a fully customised service that is catered to their specific individual needs. We believe we provide our clients with the best available combination of service through our highly professional team coupled with access to local know-how.
Upon engagement, we are rapidly able to provide our clients with discrete, professionally sound advice enabling them to make fast, informed decisions along with an unparalleled level of efficient service that ultimately saves time, money, minimizes disruption and inconvenience and rapidly addresses the environmental health issues they need to resolve to restore business continuity.
Our Clients & Testimonials
As our references and testimonials confirm, the capabilities and competencies of our professional advisors and technical staff coupled with our high level of customer care is recognised as being unparalelled in the region.
IAQ provides services to both the public and private sector. We have always, without exception, provided quick, responsive, efficient and effective solutions and remediation protocols to all our clients. Our successful outcomes from our past projects are a solid testimonial to our level of service. As a result, IAQ have a highly reputable status in the industry and this is reflected in our customers satisfaction and the large volume of 'word of mouth' referral work we have received over several years of operating.
Our dedicated in-house laboratories, analysts and technical specialists allow us to deliver a total solutions package to our client's indoor environmental health issues.
We are totally committed and enthusiastically driven everyday (7 days a week) to developing better and smarter cost-effective and integrated solutions for our clients.
For emergencies such as spills, leakages or acute contamination incidents, we also offer a full 24/7/365 rapid response service.
We fully respect the importance of commercially sensitive information.
We have significant advocacy experience in dealing with regulatory bodies and insurance assessors on our clients behalf.
We can also advise on risk mitigation and provide expert witness and testimonial services if required.
Approvals, Accreditation and Affiliations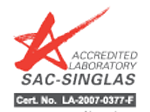 The internationally recognised Singapore Accreditation Council (SAC) accredit IAQ. SAC are the national agency for accreditation of conformity assessment bodies. SAC operates under the aegis of the Standards, Productivity, and Innovation Board (SPRING Singapore), a statutory board of the Ministry of Trade and Industry.

Interested in our Indoor Air Quality Audit?
IAQ has specialists ready to answer your concerns.
Call us for a free consultation.