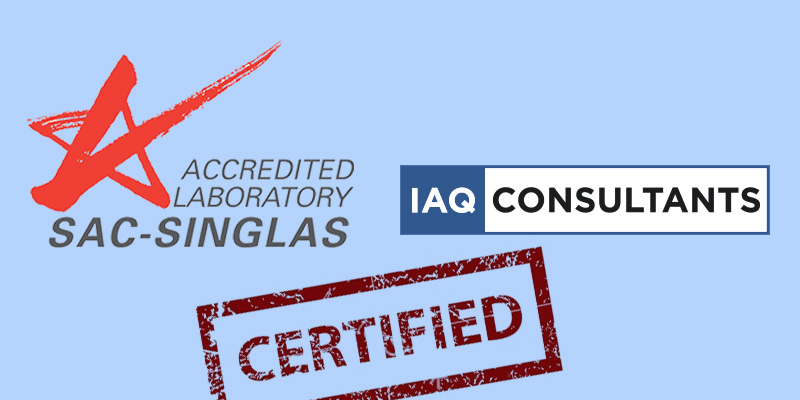 IAQ Consultants Singapore has recently been granted accreditation by SAC. The SAC-SINGLAS makes IAQ one of the four companies that hold the caliber and competency to perform total indoor air quality audits. The scheme is a voluntary, third-party assessment scheme which not only assesses the quality management of the laboratory, but more importantly, the technical competence of the laboratory. This accreditation is based on the ISO/IEC 17025 (previously ISO/IEC Guide 25), "General Requirements for the Competence of Testing and Calibration Laboratories".
IAQ is Singapore's leading specialist in the field of Indoor Environmental Quality or IEQ. IAQ has vast experience in indoor environment testing and providing customized solutions specific to the problems encountered. Concerns about Indoor Air Quality is prevalent among building owners, designers and companies in general as it has implications on the health, quality of life and the overall productivity of organizations. This has called for professional agencies like IAQ consultants who can clinically prevent, diagnose, and take remedial measures to maintain an ideal indoor environment.
IAQ has vast experience in indoor environment testing, and providing customized solutions specific to the problems encountered.
Singapore's tropical climate, highly built environment, and energy conservation requirements pose special constraints and challenges to the building industry in ensuring that indoor air quality remains acceptable. People spend an increasing proportion of their days in air-conditioned offices. As energy prices shot up, buildings were made more energy-efficient with better insulation and sealing techniques that made the buildings less prone to fresh air entering into the buildings and increasing indoor pollution.
Poor indoor air quality gives rise to common complaints such as headaches, sneezing, coughing, nausea, fatigue, skin rashes, blurred vision, shortness of breath, drowsiness, vomiting, and difficulty in concentrating. More severe health effects include convulsions, chronic bronchitis, pneumonia, liver and kidney problems and even cancer. When indoor air quality issues emerged a serious concern, a system of scientific techniques was developed to maintain microbe-free building interiors.
Our experience in and knowledge of environmental solutions are rigorously reinforced by the application of local and international standards. Most of Singapore companies as well as building owners have realized that improving the work environment to achieve greater productivity is a sound investment. On our part, to ensure a sustainable indoor environment condition we provide our clients with practical and cost-effective solutions. Hence we are the preferred partners for organizations and institutions that are keen on cost-effective solutions for maintaining clean working and living environments without compromising on the quality."

Interested in our Indoor Air Quality Audit?
IAQ has specialists ready to answer your concerns.
For a free consultation, call us now at 6245 0109.